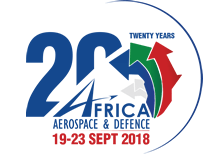 Company Chosen among Seven to Expand Global Commerce for State of Maryland
ABSI Defense was one of seven companies chosen by the Maryland Department of Commerce to represent the state at the Africa Aerospace & Defence 2018 exhibition in Gauteng, South Africa in September.
"We are honored to be included in this year's delegation and look forward to showing how ABSI's unique products and services fit into the global economy. This is truly an incredible opportunity to interface with decision makers from other aerospace and defense companies while bringing attention to some of the innovation going on in St. Mary's County," said ABSI Defense CEO, Chris Sacco.
"We will be part of the USA Partnership Pavilion at the show along with the six other Maryland companies chosen to attend."
The Africa Aerospace & Defense show is an opportunity for Maryland Commerce and the individual companies to promote the state's aerospace and defense assets. More information about the show can be found here: http://www.aadexpo.co.za/
Please follow and like us: