ABSI Aerospace & Defense was founded with the goal of delivering rapidly executable acquisition options to assist program managers in supplying the warfighter with critical technologies and training. We understand the challenges created by the rapid requirements tempo and the extended procurement process. And we know that non-program funding that expires rapidly and is nearly impossible to execute doesn't just put programs at risk… It puts lives at risk.
We understand the problem because it was our problem too. And we formed ABSI Aerospace & Defense because we are passionate about providing a solution.
ABSI is a CVE-certified SDVOSB.
We are also SDVOSB-certified in both Maryland and Virginia, and hold a Maryland Department of Transportation (MDOT) Small Business Enterprise certification for NAICS Code 541330 (SBE Only Engineering Services).
Corporate Memberships & Recognition
ABSI is proud to be a Corporate Member of the Society of Experimental Test Pilots as well as the organizations shown below. Additionally, the company is a Gold Medallion recipient of HireVets.gov program.

In March 2021, Inc. announced its list of the top 250 fastest growing private companies in the Washington, DC Metro area.
ABSI was ranked #39 on the list, with 237% growth in the past year.
As Southern Maryland's employer of choice, ABSI strives to continually improve its processes, offer a wide variety of benefits and seek the finest local talent.
Interested in learning more about ABSI or joining our award-winning team? Check out our open job opportunities and take your career to the text level!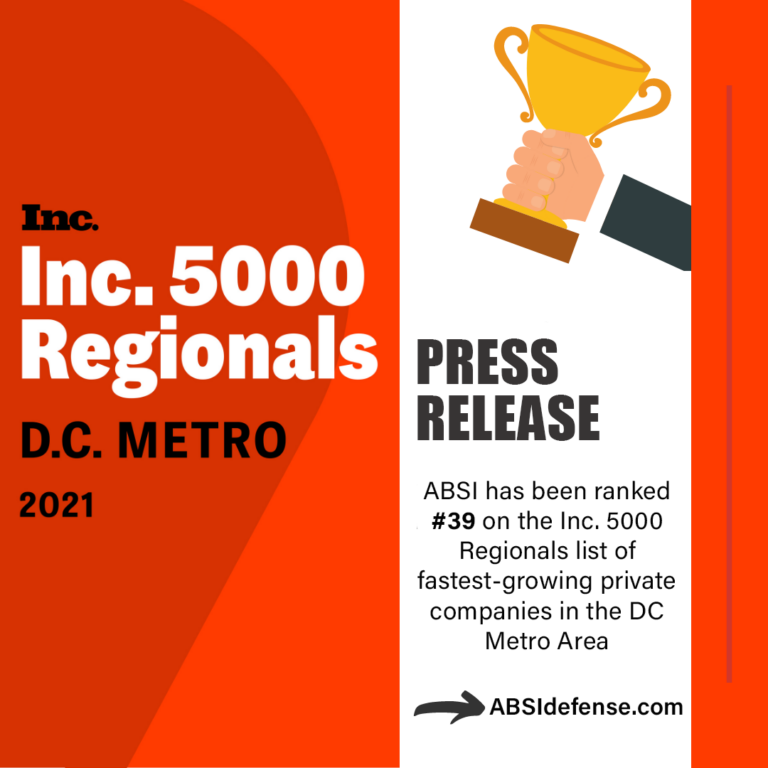 ABSI - 13 Locations Nationwide - Headquartered in California, Maryland