ABSI Receives 2021 HIRE Vets Medallion Award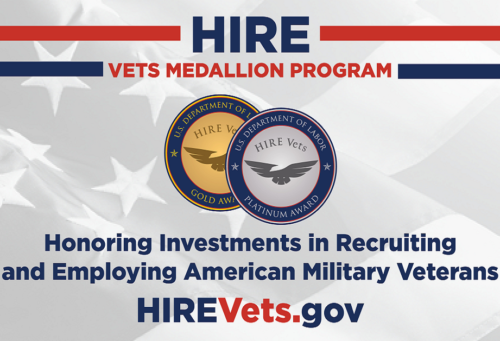 November 10, 2021: U.S. Secretary of Labor Martin J. Walsh recognized ABSI Aerospace & Defense as a recipient of the 2021 HIRE Vets Medallion Award during a virtual award ceremony presented by U.S. Department of Labor. ABSI earned the gold award after applying earlier this year. The Honoring Investments in Recruiting and Employing American Military Veterans Act (HIRE Vets Act) Medallion Program is the only federal award program that recognizes employers who successfully recruit, hire, and retain veterans.
"We are proud to be a second-time recipient of this prestigious award," said Christopher Sacco, ABSI CEO. "Seventy percent of our staff are prior veterans, and we understand the value these individuals bring to the workforce."
ABSI was one of only five businesses in Southern Maryland to receive this prestigious honor – and the only business within the St. Mary's County Aeropark Innovation District. Recipients of the 2021 HIRE Vets Medallion Award meet rigorous employment and veteran integration assistance criteria, including veteran hiring and retention percentages; availability of veteran-specific resources; leadership programming for veterans; dedicated human resource efforts; pay compensation and tuition assistance programs for veterans.